Snap Frame Floor Stands
Spend

£100.00

for

FREE SHIPPING
Snap frames on a stand to get your message up where it can be seen.
For displaying A4 or A3 notices/posters/menus, these very useful stands are 1210mm high (A4) and 1260mm high (A3). For portrait or landscape use - get your message where it can easily be read. Move them around for exact positioning.
The easy change front opening snap frame has an anti-glare protective sheet to display your menus, product information, directions etc. Silver aluminium frame with chromed rounded corners and matching pole and heavy base to provide stability. The angle of the frame is also adjustable and they can also swivel from portrait to landscape format. Use them indoor or in sheltered outdoor locations. A very versatile display product.
Specification
Positional snap frames
A4 or A3 size
Use them landscape or portrait
Stylish chrome corners
A very versatile product 
Sizes
A4 - 210 x 297mm
A3 - 297 x 420mm
View full details
Remember that around 10mm of your poster/insert will be hidden from view on all four sides when the frame is snapped down and any printed image at the edge will not show. Sizes shown below relate to the popular 25mm profile. Our wider profile frames have have different viewable and overall sizes and 12mm will be hidden behind the frame on all four sides. 
| | | | | |
| --- | --- | --- | --- | --- |
|  Poster size |  Metric size (mm) |  Imperial size (inches) |  Viewable size | Overall frame size |
|  A5 |  148 x 210 |  5.7/8  x 8.1/4 |  190 x 128mm |  178 x 240mm |
|  A4 |  210 x 297 |  8.11/4 x 11.3/4 |  277 x 190 |  240 x 327 |
|  A3 |  297 x 420 |  11.3/4 x 16.1/2 |  400 x 277 |  327 x 450 |
|  A2 |  420 x 594 |  16.1/2 x 23.3/8 |  574 x 400 |  450 x 624 |
|  A1 |  594 x 841 |  23.3/8 x 33.1/8 |  820 x 574 |  624 x 871 |
|  A0  |  841 x 1189 |  33.1/8 x 46.3/4 |  1168 x 820 |  1232 x 884 |
| | | | | |
|  27" x 41" |  685 x 1042 | 27" x 41" | 665 x 1022mm | 715 x 1072mm |
|  20" x 30" |  508 x 762 |  20 x 30 |  488 x 742 |  551 x 805 |
|  40" x 30" |  1016 x 762 |  40 x 30 |  996 x 742 |  1059 x 805 |
|  60" x 40" |  1524 x 1016 |  60 x 40 |  1504 x 996 |  1567 x 1059 |
|  500 x 700mm |  500 x 700 |  19.3/4 x 27.1/2  (B2) |  480 x 680 |  543 x 743 |
|  700 x 1000mm |  700 x 1000 |  27.1/2 x 39.1/4  (B1) |  680 x 980 |  743  x 1043 |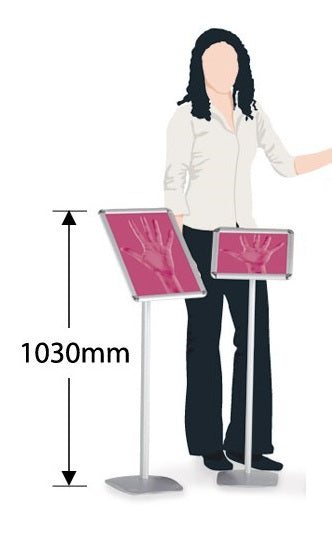 SUBHEADING
Recently viewed products